Welcome to this week's edition of our crypto roundup, where EmoneyMax delves into the latest developments, market trends, and key insights shaping the exciting world of cryptocurrencies.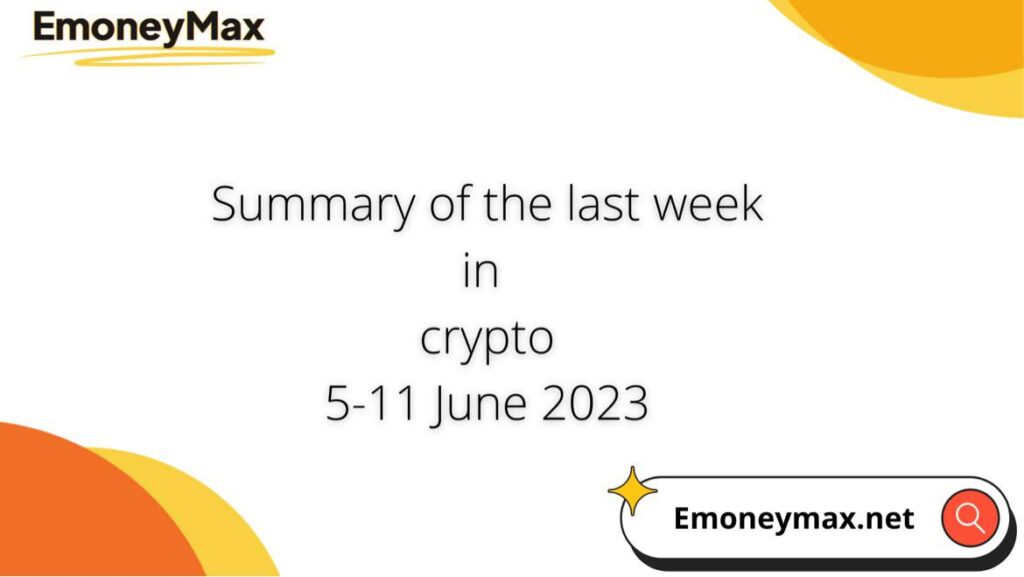 Bitcoin
Bitcoin dominance is growing.
Over the last day, Bitcoin's dominance has increased to around 46%, according to data from CoinGeck. This increase represents a major shift in the market. The metric measures Bitcoin's share compared to the overall market and provides insight into the relationship between the two. When BTC dominance increases, it means Bitcoin price is outperforming the altcoin market. While Bitcoin is down 3.1% today, which is not positive news, the rest of the market is even worse off. This difference is the reason for Bitcoin's growing dominance.
With this dominance, the market is hopeful, and the time is right to start advertising your project through one of the best marketing services; EmoneyMax.net.

Our services include:
Promoting your product or service to potential customers through Marketing, branding, and other techniques.
Building and maintaining relationships with your user community to encourage engagement and growth through Community Management.
Creating visual content such as logos, graphics, and layouts.
Through Content Creation, producing digital or physical materials such as articles, videos, or podcasts for your audience/product.
Translating written or spoken language from one language to several others.
Ensuring approval or support for your project through Upvotes.
Making your project/product get Trendy.
Promoting/Shilling your cryptocurrency or investment through our professional English speakers.
Adding your project to a listing, usually for sale or promotion.
Altcoins are suffering badly
Many major altcoins such as Cardano, Solana, and Polygon are currently seeing a significant drop in their trading value as seen in the heat map. This decline is primarily attributed to the Securities and Exchange Commission (SEC) listing many of these altcoins as securities in its recent lawsuit against Coinbase. Additionally, Robinhood, another major trading platform, announced its intention to delist certain altcoins in light of the SEC ruling. However, it is essential to note that cryptocurrencies that are not covered by the SEC requirement are doing relatively better. For example, Ethereum's ETH only saw a slight 5% decline, while Ripple's XRP dropped around 6%. While these dips are still significant, they are much less severe compared to the 20% or more losses we see today in coins like ADA, SOL, and MATIC.
Emoneymax.net will let the crypto world know about your project.
DeFi
Swift, an interbank messaging system, and Chainlink (LINK), a data provider for real-world blockchains, will collaborate with various financial institutions on a series of experiments, according to a press release on Tuesday. The aim of this collaboration is to explore the possibilities of connecting these institutions to various blockchain networks using the Swift infrastructure. Participating traditional financial institutions include Depository Trust and Clearing Corporation (DTCC), Australia and New Zealand Banking Group Limited (ANZ), BNP Paribas, BNY Mellon, Citi, Clearstream, Euroclear, and Lloyds Banking Group. Chainlink will enable connectivity between public and private blockchains for these experiments, as previously announced at Chainlink's annual SmartCon conference last year.
Stablecoins
Popular stablecoin issuer Tether has revealed its intention to participate in an ambitious $1 billion renewable energy project in El Salvador, known as Volcano Energy. The aim of this initiative is to use the renewable energy produced to support Bitcoin mining across the country. By investing in Volcano Energy, Tether aims to support the sustainable development of clean energy sources in El Salvador and contribute to the growth of the cryptocurrency mining industry there.

NFTs
The Binance NFT Marketplace has an integrated serial number (Bitcoin NFT); Major cryptocurrency exchange Binance has announced plans to add support for Bitcoin Ordinals to its NFT marketplace in the coming weeks.
According to a press release sent out by CryptoPotato, Binance NFT will integrate non-fungible Bitcoin Ordinals tokens into its platform later this month, as the exchange looks forward to expanding its multi-chain ecosystem.

Bitcoin NFTs Are Coming to Binance
Bitcoin Ordinals allows users to write NFTs to witness Bitcoin (BTC) trading areas via the Taproot flexible fork. Captions can be in the form of video, images, text, or code. They are also used to number satoshis, the smallest denomination of BTC, on the Bitcoin network.
Louis Vuitton has announced a limited edition NFT collection, with each "VIA Treasure Trunk" priced at $41,693. Users get a physical replica and access to exclusive products and experiences. NFTs are soul bound and therefore cannot be resold.
Games
Argus, a game studio focused on Web3 technologies, has successfully secured a $10 million funding round. Along with this success, they have unveiled the release of a software development kit ("SDK") designed specifically for blockchain gaming. The purpose of this SDK is to help developers create their own Web3 games by providing them with the necessary tools and resources. With this announcement, Argus wants to empower and support the wider gaming community by enabling them to explore and exploit the potential of Web3 technologies in game development.
Fractal, a startup operating in the Web3 gaming space, introduced FStudio, a comprehensive product consisting of three components. FStudio was specifically designed to simplify the process of integrating cryptocurrencies into games, providing game developers with an easy-to-use solution that requires no coding knowledge.
Apple has unveiled its long-awaited AR/VR headset, the Apple Vision Pro. It will be released in early 2024 priced at $3,499.
Let EmoneyMax.net promote your project, today.
Stay informed about crypto events by enabling our Twitter notifications.
If you want excellent results, fill out this form, and EmoneyMax Crypto Marketing Service will handle the rest.
Our social media
Telegram