From innovations in decentralized finance to Bitcoin fluctuation and influence from institutional investors, the past week has been a rollercoaster ride for cryptocurrency enthusiasts.
Stick with EmoneyMax.net as we uncover the stories behind the headlines and reveal the underlying trends.
BTC
The Bitcoin price could finally skyrocket to the long-awaited $30,000
Bitcoin's price surged on June 1, increasing the likelihood that the cryptocurrency king will head north.
Less than a week ago, on Monday, the top cryptocurrency made a huge jump, resulting in a three-week high of $28,500. This happened after the first agreement between the US government  on the national debt ceiling.
BTC can jump 10% to reach the $30,000 level, drawn above that level by a pool of liquidity.
The bullish view is reversing on the crucial candle near $25,188.
The price of Bitcoin (BTC) has increased by nearly 70% since the start of 2023, surviving the turmoil brought on by the US macroeconomy, chaos in traditional finance, and a tighter regulatory environment. After all that resilience, BTC now has a chance to hit the ambitious $30,000 target, even as the sector continues to evade the bear market.
Bitcoin's (BTC) price is trading with a bullish bias, renewing hopes for a recovery toward the $30,000 target. The new growth comes amid rising momentum that saw BTC surge nearly 5% between June 1-3.
EmoneyMax.net can help you reach your target audience
Our services:
Marketing
Community Management
Graphic Design
Content Creation
Translation
Upvote
Trends
Shilling
Listing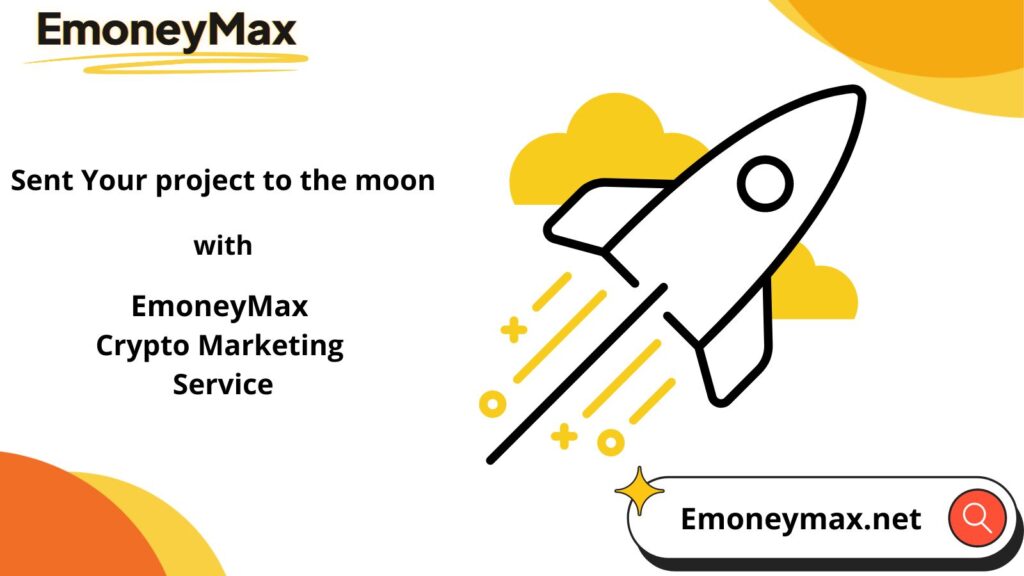 DeFi
Lesser-known altcoins had a strong week, with Bitcoin and Ether battling macroeconomic headwinds.
In a week where Bitcoin and Ether were widely discovered, several lesser-known names in decentralized finance (DeFi) posted double-digit gains.
This week's overall DeFi leader was Injective Protocol (INJ), a Tier 1 blockchain focused on building decentralized financial applications, including trading and lending protocols. INJ is also the leader so far this year, up 527% since January.
The DeFi Lido (LDO), Synapse (SYN), and PancakeSwap (CAKE) protocols also had good weeks, rising 15%, 13%, and 12% respectively.
You can ride on these and not miss out on the opportunity to create awareness and reach your target audience through EmoneyMax.net, a leading Marketing/Advertising agency with a professional, native English-speaking team.
STABLECOINS
MakerDAO's new proposal to increase the redemption rate of the stablecoin DAI from 1% to 3.33% is being discussed.
USDT issuer Tether has invested resources in energy production and sustainable Bitcoin mining in Uruguay. This comes after Tether announced plans to channel some of its profits into Bitcoin investments, including regular BTC purchases and infrastructure funding.
Circle has announced that it will launch USDC natively on Arbitrum.
ALTCOINS
Larger cap altcoins mimicked BTC's performance over the weekend, with little to no volatile movement. Despite the small daily dip, ETH is still at $1,900 after moving below and above that level for the week.
Binance Coin, Ripple, Dogecoin, Polygon, Litecoin, Shiba Inu, and Avalanche added less than 1% in the last 24 hours. ADA, SOL, and DOT increased by 1-2%.
Yesterday's top player, TRON, is down nearly 5% today. Looking at charts on a weekly scale gives a different picture of different alternative values.
However, crypto market capitalization has been relatively slow over the past two days, hovering around $1.150 trillion.
Want to announce your project/product? EmoneyMax.net has you covered. Just reach out!

NFTS
 Users can now migrate their Ethereum ERC-721 NFTs to the Bitcoin blockchain with the release of the BRC-721E standard. According to Ordinals Market, Ethereum-based NFT holders can burn their tokens and write to satoshis on the Bitcoin network.

The central banks of Hong Kong and the United Arab Emirates (UAE) have agreed to cooperate financially on three significant issues, including virtual asset supervision and development.
June 1 marked the day that Hong Kong's Securities and Futures Commission (SFC) began accepting applications for crypto trading platform licenses.
Fill out this form, and EmoneyMax Crypto Marketing Service will handle the rest.
Our social media
Telegram