What do you think will become of the crypto market this season?  Sit back and enjoy EmoneyMax.net ride through the 3rd week of July.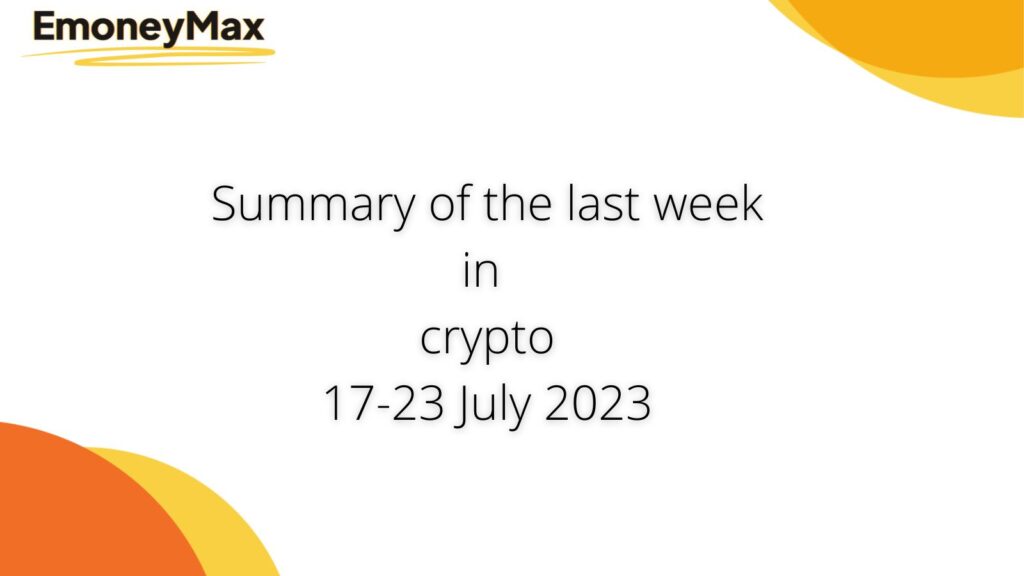 Bitcoin
The bitcoin price failed to break above the $30,000 mark. Furthermore, the bears seem to be trying to push the stock forward and even managed to push the price as low as $29.6000.
However, buyers stepped in and returned it to where it currently sells for around $29,900.
Interestingly, Bitcoin dominance increased by around 0.2% yesterday. While this might seem like a negligible increase, the fact is that it shows that BTC has outperformed altcoins and gained more market share.
Now is the perfect moment to promote your project using the top crypto marketing service, EmoneyMax.net.
Marketing: We promote your product or service to potential customers through advertising, branding, and other techniques.
Community Management: Build and maintain relationships with your user community to encourage engagement and growth.
Graphic Design: We can create visual content such as logos, graphics, and layouts.
Content Creation: Development and production of digital or physical materials such as articles, videos, or podcasts for your audience/product.
Translation: The conversion of written or spoken language from one language to several others.
Upvote: This indicates approval or support for your project.
Trending: make your project/product popular or gain popularity.
Shilling: Promote your cryptocurrency or investment with our professional English speakers.
Listing: Add your project to a listing, usually for sale or promotion.

Memecoins are still performing well, Let EmoneyMax.net give your project the desired audience.
Memecoins
The meme token HarryPotterObamaSonic10Inu (ERC-20), a Bitcoin imitator, surged by over 300% on Uniswap after months of stagnation. It now generates $14 million daily on UniswapV2, with a market capitalization of $66 million, starting at $0.015 on July 13th and peaking at $0.09 on July 20th. Created for humor and tax-free crypto asset support, it gained popularity alongside BRC20 tokens and other meme coins, following the success of Shiba Inu and similar spin-offs.
Altcoins & others
Arbitrum's Third-Largest DeFi Protocol Receives $10 Million in Binance Labs Funding
Binance Labs invests $10 million in Radiant Capital, a lending protocol based on LayerZero Labs. Funding will drive technical development for Oracle support, collateral expansion, Ethereum implementation, cross-chain settlement, double issuance, redemptions, and Layer Zero messaging. Radiant aims to attract 100 million users to DeFi by expanding to different EVM chains, thereby simplifying cross-chain transactions.
DEX trading volume dropped 28% in Q2
Signs of recovery in the later stages of the first quarter were subdued as trading volumes did not continue their upward trend in the second quarter. While centralized crypto exchanges have been the biggest losers due to increasing pressure from regulators, the resulting volatile market conditions have not spared decentralized partners either.
The latest data collected by CoinGecko revealed that spot trading volume on decentralized exchanges has dropped by more than 28%. However, Uniswap maintained its dominance in the space.

The US SEC is starting to review several spot bitcoin ETFs, including BlackRock's
The U.S. Securities and Exchange Commission (SEC) has reviewed six bitcoin exchange-traded funds (ETFs), a first step before officially approving or rejecting them.
Financial giants including BlackRock and Fidelity Digital Assets have recently shown their ambition to launch these ETFs, creating excitement in the crypto space and having a positive impact on the market.
Inflation drives people to cryptocurrencies
Many respondents see "global financial trends" such as skyrocketing inflation, rising interest rates, and economic growth affecting cryptocurrency valuations. In the wake of COVID-19, the central bank's aggressive interest rate strategy lowered interest rates on digital currencies. Inflation is fueling enthusiasm for the cryptocurrency sector, as seen in Argentina and Turkey, where residents have embraced cryptocurrency amid currency issues. In Egypt, high inflation and the devaluation of the pound forced locals to seek alternatives such as cryptocurrencies, causing the price of BTC on the EGP to reach an all-time high on exchanges.
The Uniswap founder's Twitter account was hacked
After being hacked, Uniswap Labs founder Hayden Adams regained control of his Twitter account within five hours. Fortunately, the decentralized exchange on the Ethereum blockchain remained unaffected by the exploit. Adams thanked those who assisted in resolving the issue. Uniswap Labs issued a warning not to click on links shared by compromised accounts. This incident adds to a list of high-profile figures, like Peter Schiff, Steve Aoki, Jeremy Allaire, and Narendra Modi, who have been targeted by Twitter hackers.
Bitget expands to the Middle East and hires more employees
The exchange can employ up to 60 people and select Dubai as an operational hub for the region.
Major cryptocurrency exchange Bitget has revealed plans to expand into the Middle East, specifically the UAE and Bahrain.
The UAE's financial heartland, Dubai, has become a hotbed of cryptocurrency activity, attracting countless companies with its friendly approach to the industry. Binance, Bybit, OKX, and other exchanges have recently been approved to provide services in this area.
BitMEX expands its partnership with Italian football club AC Milan
BitMEX is now a premium partner of AC Milan, expanding the partnership following a bear market recovery. Former manga sponsor BitMEX plans to continue joint events and fan-only benefits. They also announced NFTs that supported Fondazione Milan's efforts.
Fill out this form, form, and EmoneyMax Crypto Marketing Service will handle the rest.
Our social media
Telegram