Here's EmoneyMax, a prominent crypto marketing team summary. All notable events that occurred in the crypto space over the past week. The report covers developments, news, and trends that are relevant to the industry.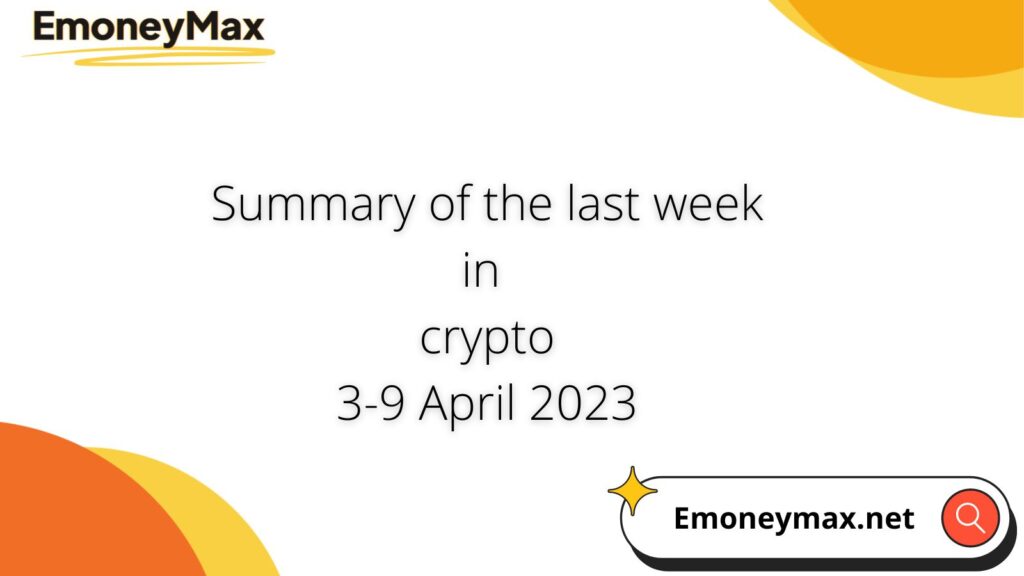 BTC is back above $28K
BTC has experienced significant price fluctuations in the past week. On Monday, the price of the cryptocurrency dropped as low as $27,200 due to the false news that the CEO of Binance CZ received
a red warrant from Interpol.
However, ownership was quickly repossessed after Zhao publicized the claims. The bulls then pushed the price even higher and reached almost $29,000, but eventually failed and got back to $28,000 on Wednesday. The following days were relatively quiet, with BTC hovering around $28,000.
It briefly dipped below that level and reached a daily low of $27,800 before rising above $28,000 again on April 9 at 20:37 UTC.
EmoneyMax.net is prepared to promote your project and believes the timing is ideal to commence advertising. Take a look at some of the services we offer below:
Marketing
Community Management.
Graphic Design.
Content Creation.
Translation.
Upvoting.
Trending.
Listing.
You can see how we work in this article.
ALTCOINS
Altcoins had volatility early last week but stabilized. Ethereum reached an eight-month high above $1,950 but fell below $1,900.
Cardano saw the biggest increase among the top 10 altcoins, up nearly 3% and nearly $0.4.
Other altcoins, including BNB, XRP, DOGE, MATIC, SOL, DOT, LTC, SHIB, and TRX, also saw modest gains.
Filecoin and ICP rose, but most of the top 50 altcoins stayed steady, keeping the total crypto market cap at $1.18M.
Consider using EmoneyMax.net advertising services to promote your altcoins and effectively compete in the cryptocurrency market.
MEMECOINS
After Elon Musk changed the Twitter logo to Dogecoin, 1.4 billion DOGE was dumped in two whales.
Did Elon Musk increase Dogecoin price by changing his Twitter logo? Top DOGE whales sold $120M worth of coins, causing a 30% increase. DOGE rebounded with 1.4 billion coins sold to whales after Musk changed his logo back. Data from Lookonchain revealed this.
The experienced team at EmoneyMax.net is here to help you take your memecoin to the next level and spread it around the world.
NFTs
OpenSea introduced OpenSea Pro. An NFT trading platform for professional traders, featuring 0% fees, advanced floor clearing, and instant selling. It offers inventory management, watchlist functionality,
and support for efficient trade execution. The platform gives traders access to 170 market listings.
Magic Eden, a Bitcoin NFT marketplace, has introduced a creator launchpad for Ordinals that allows users to create their own Bitcoin-based NFT collections.
Luxury brands Asprey and Bugatti will collaborate to launch products that will sign Bitcoins through the Ordinals protocol.
In addition, Magic Eden launched its beta ETH marketplace and expanded its platform to Solana, Bitcoin, Polygon, and Ethereum NFTs.
OpenSea Goes Pro, Ralph Lauren Acquires Cryptocurrency;
OpenSea has launched the OpenSea Pro platform, which targets professional NFT traders and competes with Blur.
Ralph Lauren accepts crypto payments at its Miami store. VitaDAO has been named a for-profit company to fund scientific research on longevity. Not sure if OpenSea Pro can appeal to Blur users.
Donald Trump's NFT Sales Soared After His Arrest;
Donald Trump's NFT collection sales surged 462% following his recent lawsuit, with 30 cards sold within an hour and 47 within six hours. However, the increase was relatively small compared to top NFT collections. Trump's collection, launched in December, quickly sold out at $99 each, with the lowest price of around 0.5 ETH or $930.
Ralph Lauren plans to accept cryptocurrencies and sell NFTs at its newly opened Miami store; Ralph Lauren accepts cryptocurrency payments at its new Miami store through BitPay, allowing customers to use BTC, ETH, and MATIC. The fashion brand has also partnered with Poolsuite to gift existing NFT Collection members shared NFTs and exclusive access to a special event, as well as the opportunity to upgrade their avatars with Ralph Lauren digital apparel.
DeFi
PancakeSwap v3 launched on BNB Chain and Ethereum; PancakeSwap v3 incorporates concentrated liquidity from Uniswap v3, whose license ends on April 1st. It offers lower trading costs with four levels, benefiting liquidity providers. v3 farms include $ETH, $CAKE, $USDC, and $USDT. PancakeSwap plans to introduce native limit orders, VIP rewards, and auto position management.
Trust Wallet has partnered with Rampa and MoonPay to enable cryptocurrencies for fiat payments;
Trust Wallet has collaborated with Ramp and MoonPay payment systems. The same enables users to convert their crypto to fiat currency directly on the Trust Wallet app. Users with over 100 TWTs get a discount on withdrawals. The partnership allows users to withdraw funds without using centralized exchanges.
Eric Chang, head of product, said the partnership will provide users with "the best deals to sell their crypto assets directly from their wallets."
"Given how turbulent the market is, we think it's a fitting launch to allow our users to choose what they want to do with their cryptocurrency with some of the best shortcut providers in a simple user experience," he added.
GAMING
Web3 gaming startup Ultra will launch the Ultra Games Marketplace; Ultra Games, a prominent Web3 gaming startup, will launch a marketplace on April 25th that will allow users to sell digital games on the secondary market, differentiating itself in the gaming industry. This distinctive feature, combined with the diversity of games in the industry and strong partnerships, makes Ultra Games a leader in the gaming space.
Bitcoin White Paper Hidden in MacOS Since 2018
See for yourselves:
open Finder and click on Macintosh HD, then open the System→Library→Image Capture→Devices folder. Control-click on VirtualScanner.app and Show Package Contents, open the Contents→Resources folder inside, then open simpledoc.pdf.)
Stay informed about crypto events by enabling our Twitter notifications.
If you want excellent results, fill out this form and let EmoneyMax Crypto Marketing Service handle the rest.

Our Social Media
Telegram