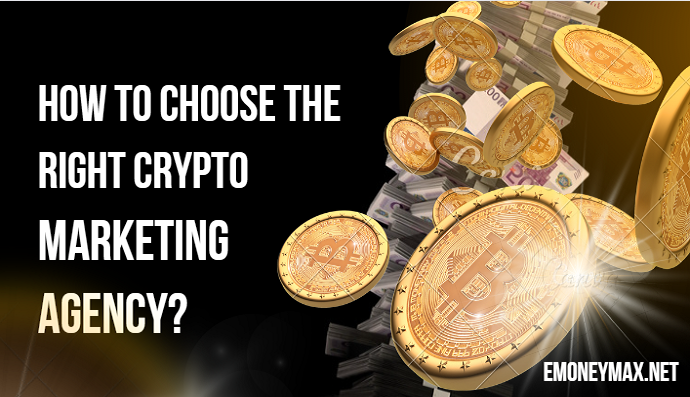 Effective crypto marketing can mean the difference between success and failure in the rapidly developing world of cryptocurrencies and blockchain technology. As the industry continues to expand, the demand for specialized crypto marketing agencies has risen significantly. However, choosing the right agency to promote your crypto project or business requires careful consideration.
The EmoneyMax editorial team walks you through the key factors to consider when selecting the perfect crypto marketing agency for your needs.
Let's Define Your Goals and Objectives
Before you start your search for a crypto marketing agency, it's crucial to have a clear understanding of your goals and objectives. Are you looking to increase brand awareness, drive website traffic, find investors, increase community members for your social accounts, or something else? Defining your goals will help you identify agencies that specialize in the areas you need the most.
If you're having trouble creating your marketing strategy, EmoneyMax's experienced team will help you create an effective marketing strategy.
Industry Experience and Expertise
The cryptocurrency space is unique and complex, requiring a deep understanding of the technology, market trends, and regulatory landscape. Look for agencies with a proven track record of working within the crypto and blockchain industry. Review their portfolio and case studies to ensure they have experience delivering successful campaigns in this niche.
The entire EmoneyMax team consists of experts who have been serving the cryptocurrency niche for many years. With more than 30 expert team members, it provides services for all your business in the field of cryptocurrencies.
Comprehensive Service Offerings
Effective crypto marketing goes beyond just running advertisements. A reputable crypto marketing agency should offer a range of services that will meet your project needs. EmoneyMax crypto marketing agency offers you the below services for the best results.
1. Marketing Services
Our experienced marketing strategies are designed to showcase the uniqueness of each project, allowing you to effectively convey your project's narrative. By securing coverage on renowned news sites such as New York Times, Bloomberg, Yahoo Finance, and Forbes, we deliver top-tier crypto marketing services that target your desired audience and attract new investors.
2. Crypto Shilling and Social Media Services
Operating around the clock, our dedicated team ensures your project receives consistent exposure through crypto-hyping and influencer collaborations. With real-time communication channels and transparent reporting, we bring real investors closer to your project, explaining its intricacies and benefits.
3. Community Management Services
A thriving community is the foundation of any successful crypto business. Our experienced community managers adeptly represent your project across platforms, addressing inquiries professionally and nurturing engagement at every level.
4. Graphic Design for Crypto Ventures
From captivating logos to visually stunning designs, our creative team transforms your project's identity into an unforgettable visual journey. Recognizing the significance of aesthetics in the digital landscape, we craft designs that bolster your project's credibility and allure.
5. Content Creation and Article Writing Services
Words wield immense power in shaping perception. Our experienced writers specialize in crypto, blockchain, NFTs, and DeFi, crafting SEO-optimized articles that captivate and educate. With thorough research and engaging elements, our articles enhance your project's visibility and authority.
6. Translations
The EmoneyMax translation team covers an array of specialized areas including blockchain, cryptocurrencies, trading, DeFi, and NFTs. Backed by native speakers, we ensure precision and clarity across numerous languages, bolstering your project's accessibility and global reach.
7. Upvote and Trending Services
Elevating your project's visibility is our specialty. Through strategic upvoting and trending services, we position your project in the limelight, garnering attention and traction across platforms like Reddit, CoinMarketCap, Coingecko, and more.
8. Listing on Exchanges and Crypto Platforms
Our expertise in securing listings on reputable platforms is a game-changer. By listing on famous platforms including CoinMarketCap, TrustWallet, CoinGecko, and others, we propel your project into the spotlight, attracting potential investors, partners, and users.
Communication with Crypto Marketing Agency
Open and transparent communication is key to a successful partnership in crypto marketing. During your initial interactions, assess how well the agency understands your needs and how effectively they communicate their strategies. A trustworthy agency will be forthcoming about its processes, reporting, and progress tracking.
The EmoneyMax team provides you with a continuous flow of information, transparent data, and feedback in a communication channel dedicated to your project.
Client Reviews and Testimonials
Read through client reviews and testimonials to gauge the experiences of others who have worked with the agency. This can provide valuable insights into the agency's strengths, weaknesses, and overall client satisfaction.
The EmoneyMax team has gained the trust and satisfaction of more than 400 customers to date. You can read feedback and testimonials on our website homepage.
Customization and Flexibility
Avoid agencies that offer one-size-fits-all solutions. Each crypto project is unique and requires tailored marketing strategies. A reputable agency will take the time to understand your project's specific needs and design a strategy that aligns with your goals.
Every cryptocurrency project is special and can achieve success with a unique crypto marketing service. Our experts examine your project in detail and set out with the most accurate strategy.
Budget Considerations on Crypto Marketing
While cost is an important factor, it's not the sole determinant. Focus on the value the agency can bring to your project rather than just the price. A cheap agency might not deliver the desired results, while an expensive one might not be the best fit for your budget.
Our team offers you the most suitable and most effective marketing strategy for your budget and starts working after your approval.
Conclusion: EmoneyMax Crypto Marketing Services
Selecting the best crypto marketing agency is a critical decision that can significantly impact your project's success. By considering factors such as industry experience, comprehensive services, transparency, client reviews, customization, and budget, you'll be better equipped to make an informed choice.
Remember, the right agency will not only promote your project effectively but also become a strategic partner in your journey within the exciting world of cryptocurrency.
Reach out to us by Contact Form and embark on this transformative journey with EmoneyMax.