EmoneyMax Advertising Service can help You with everything when it comes to marketing but not only. We work with clients comprehensively, We can help you from A to Z. Starting with creating the website and then with marketing.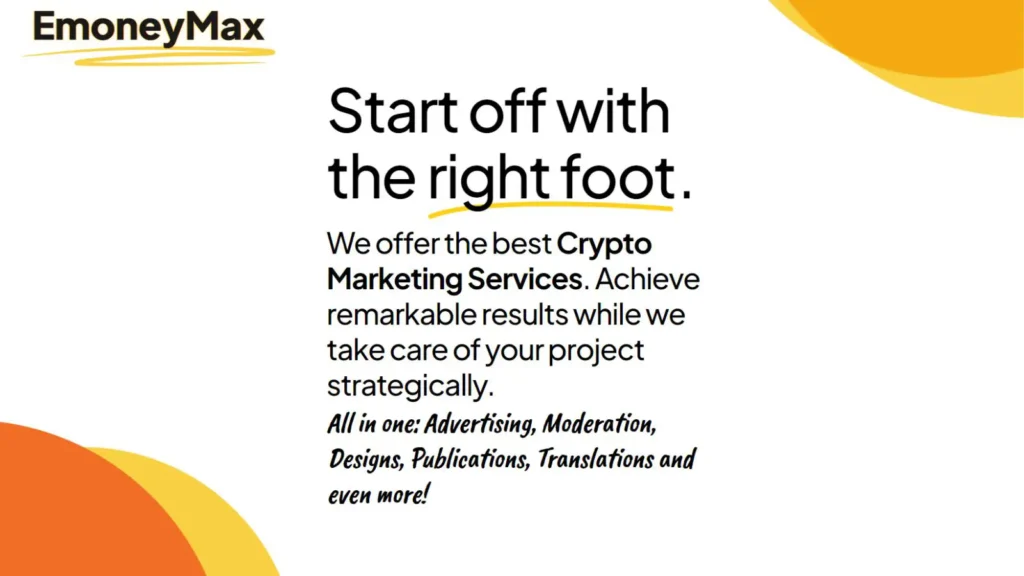 Over the years, being in the cryptocurrency industry, we have gathered experience and knowledge on how to best promote and market project or products. Our service is available to everyone from individual clients to large companies. Write to us via form and we will send you an offer. Today we want to share with You some tips that could help You with promoting Your project.
Here are some steps that You need to do at the beginning.
You have an idea of what You want to sell to people – great. Now it's time for You to action.
First, create website. Good website is the key to everything. It should look clean and consist all important information about Your project. Think about design / layout, how do You want it to look like. Our specialists create website and our graphics designers do the rest. look at EmoneyMax.net do you like it? Do you want to have similar one or better? Of course we can do that for You!
Another thing is to make a long term marketing plan. To do this draw the roadmap. A roadmap is a visual representation of your strategic plans. It ties together your strategy, the work you will need to do to achieve your goals, and a timeline for completion. Our graphic designers and crypto pros are experienced with doing this. So even if, You don't know where to start, we can help. See how we works here.
When all above its done, think about marketing. This is the most important, to let people know about You. Once You will have budget set on marketing we can create a plan for You where and when to advertise project.
How to promote Your project:
Create engaging content – is the key to spread brand awareness and to connect with your target audience. You can do it through a blog or video.
Create press releases – this is a good way to make people know about you.
Publications in biggest media outlets – once You have good writting, we can publish it for You, using our Publication Service.
Advertising on forums like Bitcointalk, Altcoinstalks.
Use social media – there are no better way to promote Yourself as by using social media, create accounts e.g. on Twitter, Facebook, Linkedin, Reddit and be active. If Your company doesn't have much people to do it, don't worry. EmoneyMax offer Community Management Service, so we can take care of Your social media.
Create Your online community – be close with people, You can do it via Telegram or Discord. Our moderators can keep Your community active.
Think about giveaways, promotions, contest, and so much more – people love it.
Use shilling service – this can help with spread word about Your project to potential investors. We can do it on Telegram, Twitter, Reddit and more. See how we do it here.
Get listing on big cryptocurrency website as CoinMarketCap or CoinGecko – we can help with that, see here.
Get listing on exchanges.
There are a lot of ways to promote Your project. Our advice is to start as soon as You have an idea and start building Your brand. EmoneyMax Advertising Service offer all in one: Advertising, Moderations, Designs, Publications, Translations & more. We can help You with everything, and we provide fast delivery -contact in less than 24h. We are waiting for You.