In below article, we want to show you that BTC price is connected with the way that people invest. So take cup of your favourite tee or coffee and enjoy the reading.
Let's just start at the beginning.
Bitcoin (BTC) is a cryptocurrency developed in 2009 by Satoshi Nakamoto, the name given to its unknown creator (or creators). Transactions are recorded in a blockchain, which shows the transaction history for each unit and proves ownership.
Unlike traditional currencies, Bitcoin is not issued by a central bank or backed by a government. For investors, buying a bitcoin is different from purchasing a stock or bond because Bitcoin is not a corporation.
Why people buy cryptocurrency ?
The major reason is that they simply want to make money. There are big price fluctuations in crypto. People try to make money from them, but investing in them is not that easy.
Another good reason to buy crypto is diversity portfolio. It's good to have your money invested in different places Some people said they believe crypto is the future of money – its good to have it.

What to buy?
It's not one answer to this question. Our suggest is always do Your own research.
Is there a correlation between BTC price and people mods for investing?
If we are talking about the cryptocurrency market, we have noticed that with the rise of BTC, more projects appears. As BTC grows, the bull market reigns. People are more willing to invest their money and look for new projects to enter.
New project launch.
It might seem that it is worth to wait with promotion of your project until BTC price grows. Unfortunately, this thinking is wrong. When BTC grows, it's already too late to create a project! So don't wait, start working as soon as you have the vision. Create a product, make a customer base, think long term. That's the key to success.
Don't know how to start ? EmoneyMax will help.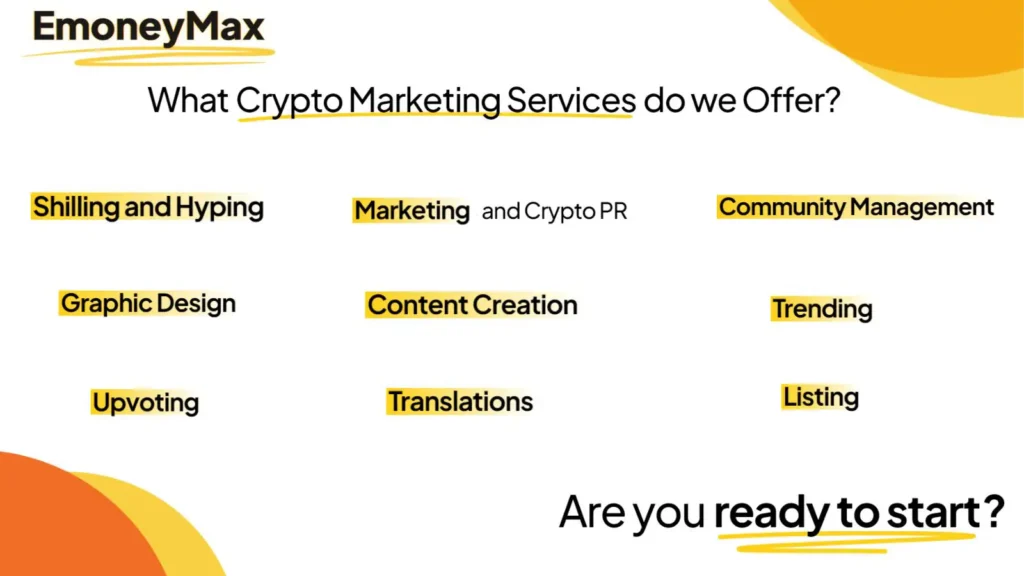 EmoneyMax Advertising Service can help You with everything. We work with clients comprehensively, We can help you from A to Z. Starting from creating the website and then with hall marketing campaign and there is more so come and talk to us.
Over the years, being in the cryptocurrency industry, we have gathered experience and knowledge on how to best promote a project. Our service is available to everyone from individual clients to large companies. Write to us and we will send you an offer.

Summary
There is no good answer on when to buy crypto or what to but. The best thing You can do is observe the market. Do research and be careful.
When it comes to bitcoin. Some experts believe that there is a general correlation between the BTC price and people's moods for investing. When the BTC price is rising, people tend to be more optimistic and are more likely to invest in cryptocurrencies. However, when the BTC price is falling, people tend to be more pessimistic and are less likely to invest in cryptocurrencies.
If You want to start new project don't wait to BTC price rise, just start acting.

Our social media:
Twitter
Facebook
Tumblr
Website