Happy new week, friends, and welcome back as altseason approaches. EmoneyMax has a fresh recap of the previous crypto weekend ready for you. Have fun reading.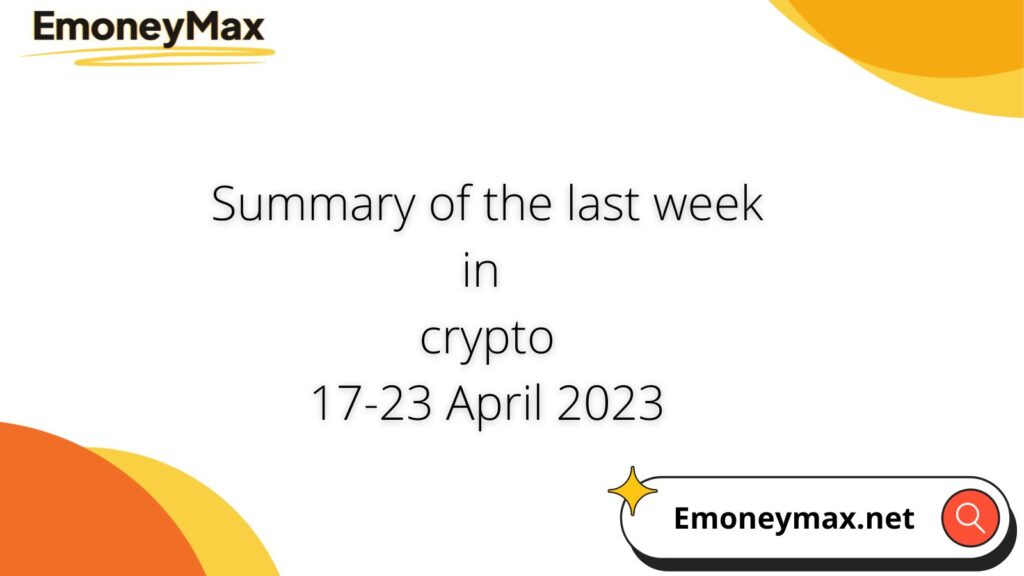 Altseason is home to staggering profits and high volatility. It's almost Christmas for cryptocurrency traders.
In a short period of time (usually a few weeks or months), the prices of altcoins (all currencies except Bitcoin) skyrocket as investors move their money from Bitcoin to other cryptocurrencies.
Once prices start to rise, the FOMO reversal sets in and creates a snowball effect that, even briefly, pushes altcoin prices to astronomical (and often overvalued) heights.
At EmoneyMax, our experienced crypto PR team has developed a top-notch Marketing and brand management strategy that is guaranteed to reach your target audience at a minimal cost.
Depending on your specific requirements, we can help you achieve your goals. See our last article on how we can advertise for you.
Bitcoin Dominance Rate Hits Familiar Resistance Signaling "Altcoin Season" Is Coming
The rise of Bitcoin dominance, or the cryptocurrency's largest market share, has stalled, signaling the potential outperformance of alternative tokens (altcoins) in the future.
TradingView data shows that the dominance rate jumped from 42% in the first quarter to 48% and was struggling to surpass that level until this month.
The stat has fluctuated between 38% and 48% for nearly two years, and the drop from 46% to 48% has coincided with surprise gains for altcoins.
"Bitcoin dominance could peak, that would be a sign that altcoins would do better," Markus Thielen, head of research and strategy at crypto service provider Matrixport, said in a note to clients on Thursday.
It looks like Bitcoin's dominance will reach similar levels in 2022, accounting for 45–46% of the total crypto market capitalization," Thielen said. "If Bitcoin continues to outperform the rest of the ecosystem, it would mean that only Bitcoin matters, which seems unlikely given the intellectual and financial power deployed in other chains."
"Bitcoin has benefited from liquidity in the United States, but that may change in the future," he said.
Ethereum and Altcoins Lead in High Open Interest and Trading Volume
Bitcoin dominance rate stalled as Ethereum (ETH) took the lead, leading experts to speculate on the onset of a possible altcoin glut. The largest cryptocurrency by market capitalization benefited from US liquidity, but things changed when altcoins showed how much intellectual and financial power was deployed in their chains.
According to data from crypto intelligence tracker Coinalyze, open interest (OI) has risen for several altcoins in the last 24 hours. OI is a key indicator of market participants' interest in and commitment to an asset. The higher the OI, the greater the liquidity and expected volume of operations in the market.
ETH deposits exceeded withdrawals for the first time since the Shapely update. This comes a week after a hard fork allowed ETH attackers to withdraw invested ETH.
Take advantage of the Altseason and let one of the top marketing teams, EmoneyMax.net, market your project abroad.
EmoneyMax services:
We promote your product or service to potential customers through Marketing, branding, and other techniques.
Build and maintain relationships with your user community to encourage engagement and growth via Community Management.
We can create visual content such as logos, graphics, and layouts.
Via Content Creation, we will produce digital or physical materials such as articles, videos, or podcasts for your audience/product.
We can Translate written or spoken language from one language to several others.
Ensure approval or support for your project via Upvotes.
We can make your project/product get Trendy.
Promote/Shill your cryptocurrency or investment with our professional English speakers.
Add your project to a listing, usually for sale or promotion.
MEMECOINS
PEPE, DOGE, SHIB, and other meme coins collected by 420
Memecoins like Dogecoin (DOGE), Shiba Inu (SHIB), and Pepe (PEPE) came together ahead of April 20,
a day deeply rooted in meme culture. Things started to heat up in the Pepe market after the launch of its own PEPE token on April 14th. With a market capitalization of $113 million, the frog-themed meme coin saw a massive 379% increase between April 17th and 19th. about four times in two days.
With the surprising success of Pepe, other memetokens followed as ecstasy boomed among DOGE holders with anticipation of great things to come from the token, thanks to the involvement of Twitter CEO Elon Musk.
DeFi
Decentralized exchange PancakeSwap has proposed lowering the inflation target of its original CAKE token from over 20% to 3-5%. The goal is to transform CAKE's staking model into one that features low staking inflation, real returns from the PancakeSwap protocol, and product benefits that favor long-term CAKE staking.
Stablecoins
SG Force, the digital assets arm of Société Générale, has launched a euro stablecoin on Ethereum. EUR CoinVertible (EURCV) will be offered to institutional clients to bridge the gap between traditional capital markets and the digital asset ecosystem.
The US House of Representatives Financial Services Committee has published a bill on stablecoins. It includes a framework for stablecoin issuers to determine how to regulate their offerings and calls for a temporary ban on algorithmic stablecoins.
NFTs
Starbucks launched its second NFT collection at Polygon. The "First Store Collection" is a set of 5,000 collectible NFT "stamps" priced at $100 each, similar to the previous drop of 2,000 NFT.
Games
Merit Circle DAO, a gaming DAO, announced the launch of the "Beam" gaming subnet in partnership with Avalanche. Merit Circle plans for Beam to support dozens of Avalanche games. Beam will be a sovereign, independent gaming network aimed at a broad spectrum of gamers and game developers.
This is certainly the time to promote your project. EmoneyMax.net is your best bet.
Stay informed about crypto events by enabling our Twitter notifications.
If you want excellent results, fill out this form and let EmoneyMax Crypto Marketing Service handle the rest.
Our Social Media
Telegram