EmoneyMax Crypto Marketing Service, below we want to present to you in a simple way how we work and what you can expect when it comes to our shilling job. Crypto advertising, aka shilling, means that we will spread words about your project on different social media platforms. 
Shill: we provide only the highest quality when it comes to posting:
We work with real people. In our team we have also Quality Menagers who are taking care that everythin is doing on high level.
Here our requirements:
no copy pasting,
all comments needs to be original,
no scheduling,
everything needs to be written and reported in real time,
no spam, only HQ comments,
all moderated/deleted comments in first 24 hours are reposted again,
we hire Quality Managers that are working 24/7 and provide full reports 2 times a day,
each shiller use at least 3 accounts on each platform,
only experienced people, that worked for at least few projects already.
We works on
Choose package that will work for you
In our offer, you can find three different packages: Starter, Advanded and Ultimate. They differ from each other in the amount of messages we can publish, the social media on which we will write, and bonuses.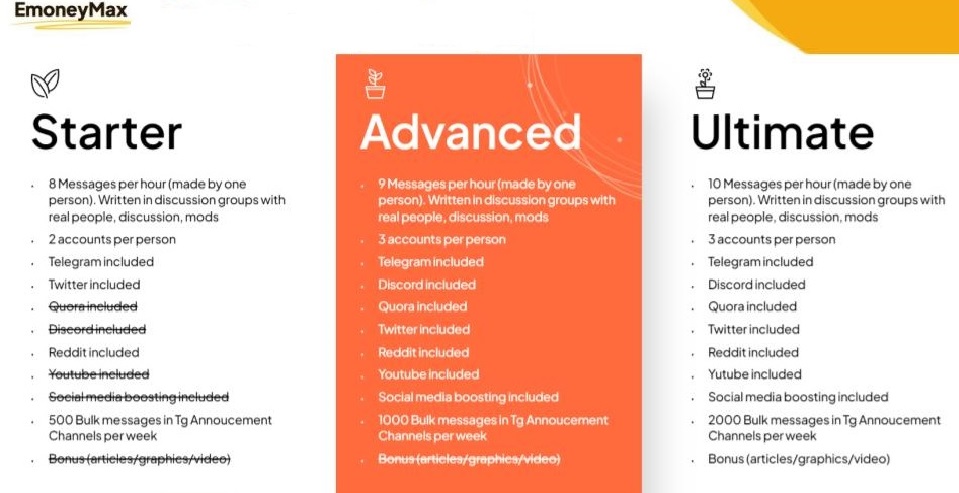 What you can recive
Now look at above package and lets make CASE STUDY for 8 people team.
This is how it could looks like for each of them:
Where we will write?
At the beginning of our work, we create a group and there each person posts proof of their work – links to posts/conversations, screens, and everything they did. You have access to it and you can communicate there with us 24/7. We always suggest taking at least 8 people. Each of them have 4 hours shift per day. We will set Ratio to make sure we meet your expectation. Ratio will tell you how many messages per hour we would write in Telegram groups, Discord group, Twitter and Reddit.
For example. Client choose to take 8 people, and he wants to advertise their project only on Tg and Twitter. Ratio could look like :
1st hour
1 message in main tg channel ( supporting project) / 4 messages in big discussion group Tg/ 3 Twitter comments on big Influencer accounts
2nd hour
3 messages in big discussion group Tg/ 1 Twitter comment on project main /4 Twitter comments on big Influencer accounts
3rd & 4th hour
4 messages in big discussion group Tg /4 Twitter comments on big Influencer accounts
NUMBER
OF MESSAGES
TELEGRAM
TWITTER
DAILY
128
128
WEEKLY
896
896
WEEKLY WITH BULK MESSAGES
1396
Ratio is something we adjust at the beginning of the work. The client can say if he wants us to support his social media or promote his project outside. 

To work with us, fill out this form and let EmoneyMax Crypto Marketing Service handle the rest.
Our Social Media
Telegram