See EmoneyMax last article in here.
Buckle up for a thrilling ride as we delve into the latest advancements in the crypto space, fueling unprecedented growth and transforming industries worldwide.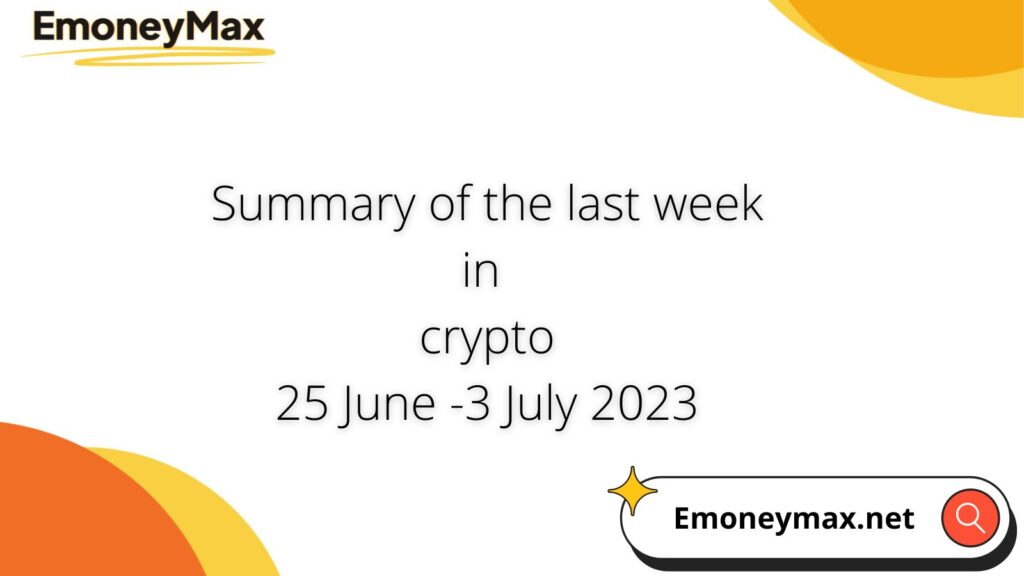 Bitcoin
Bitcoin dominates the first half of 2023, outperforming global assets by 83.8%.
Bitcoin, the leading cryptocurrency, emerged as the clear winner on the global financial scene in the first half of 2023. With a staggering 83.8% increase, Bitcoin outperformed all other major assets worldwide, expanding its position as the most important investment.
Bitcoin's Meteoric Rise Surpasses All Expectations
During the first six months of 2023, Bitcoin experienced an unprecedented rise in value that surpassed all expectations. With an impressive 83.8% gain, Bitcoin outperformed traditional assets and other cryptocurrencies, making it the top choice for investors looking for significant returns. This remarkable achievement has firmly established Bitcoin as a force to be reckoned with in the financial world.
Bitcoin broke out last week when it jumped from $26,500 to over $31,000, hitting a new multi-month high. The bears tried to intervene but were only able to halt BTC price growth, with the asset stuck between $30,000 and $31,000 for the past seven days.
That all changed on Friday following the news that the SEC could reject the latest news from Bitcoin Spot ETFs like BlackRock, Fidelity, and others due to an alleged lack of critical information.
With the current state of the cryptocurrency market, now is a unique time to explore Advertising and Marketing opportunities with EmoneyMax.net, a reputable provider of cryptocurrency marketing services. EmoneyMax.net offers a wide range of carefully selected services to increase your project's visibility, expand your reach, and support growth.
EmoneyMax.net can help you reach your target audience.

Our services:
Marketing
Community Management
Graphic Design
Content Creation
Translation
Upvote
Trends
Shilling
Listing

Bitcoin Cash continues to outperform.
Bitcoin Cash (BCH) is arguably the top performer over the past seven days and also one of the top performers over the past day. The cryptocurrency is up 107% for the week and 14% for the day, challenging stagnant sentiment over the past few days.
Vitalik Buterin Says He's Not Staking All of His ETH, Just a 'Small Part'
Ethereum co-founder Vitalik Buterin said that he doesn't invest all of his Ethereum (ETH) because multisig wallets are "complicated in many ways".
On the June 29 episode of the Bankless Podcast titled Retake Alignment, Buterin revealed the "main reason" why he only invests a small portion of his Ethereum instead of all of it. He explained:
"Because when you invest your ETH, the keys they can access must be public in the online subsystem. It has to be Multisig to be sure, Multisig for staking is still very difficult to set up, it gets complicated in many ways."

Solana (SOL) Hits $20 After a 5% Daily Jump, Bitcoin (BTC) Has $30,000 
Bitcoin has settled after Friday's slump, which saw it rise and fall over a thousand times and remain relatively quiet at $30,500.
Altcoins are also less volatile these days, as they tend to be on the weekends, with SOL proving to be the biggest winner for higher limits.

MicroStrategy buys more BTC, but Bitcoin hovers around $30,000 amid SEC ETF rejection rumors.
A lot can change in a week in the cryptocurrency industry, and the tides have really turned over the last seven days. The market recently rallied as several multinational financial giants signed up for the Bitcoin Spot ETF, but the tide may be turning, according to a WSJ report on Friday.
BlackRock shocked the crypto market two weeks ago when it applied for the issuance of a BTC Spot ETF in the United States, becoming the first product of its kind to receive the green light from the SEC.
As the world's largest asset manager, its moves had immediate consequences, as ARK Invest changed its own filing to copy BlackRock's, while Fidelity resubmitted less than a week later.

This also affected the cryptocurrency's price trajectory, as BTC jumped from $26,500 last week to around $31,000 today. But on Friday, a Wall Street Journal report came out claiming that the SEC had deemed the recent filings "inappropriate," sparking speculation that they might be rejected, along with all previous filings.
Defi Liquid Staking Platforms Now Secure Over 10 Million Ethereum Worth Nearly $20 Billion
According to recent data, over ten million Ethereum are now covered by liquid derivatives platforms, worth nearly $20 billion at current exchange rates. Two of the main decentralized financial (defi) protocols for liquid investments, Lido Finance and Rocket Pool, had 30-day growth rates ranging from 7.57% to 9.69%.

Ethereum Co-Founder Vitalik Buterin on SEC Crypto Enforcement Actions: "The real competition is a centralized world.
Vitalik Buterin, the co-founder of Ethereum, the second-largest cryptocurrency project by market capitalization, reviewed the recent actions taken by the US Securities and Exchange Commission (SEC) regarding the application of cryptocurrencies. Noting that projects like Solana are involved in these legal actions, Buterin said the real competition is in a "centric world".

A Man Who Paid $20,000 in Bitcoin to Hitman to Kill Child Goes to Jail for 6 Years
John Michael Musbach, a 34-year-old resident of Haddonfield, New Jersey, was reportedly sentenced to six and a half years in prison for hiring a hitman to commit the murder.
He sent $20,000 in BTC to an "enforcer" to kill a boy who was going to testify against him in a child pornography case. The young man was also a victim.
Let EmoneyMax.net promote your project, today.
Stay informed about crypto events by enabling our Twitter notifications.
If you want excellent results, fill out this form, and EmoneyMax Crypto Marketing Service will handle the rest.
Our social media
Telegram