In our last article we wrote about Strategies to get recognition. Today we want to show why our service can help you achive your goals.

Experts from Emoneymax.net crypto marketing service see the potential for cryptocurrencies
to revolutionize industries such as finance, healthcare, and supply chain management is enormous. Blockchain technology offers security, transparency, and decentralization, but its adoption is critical
to its success. Recognition generates credibility, attracts users, investors, and associations, and ensures compliance, leading to a stable and sustainable ecosystem. Recognition is the key to shaping the future
of cryptocurrency and allowing it to reach its full potential.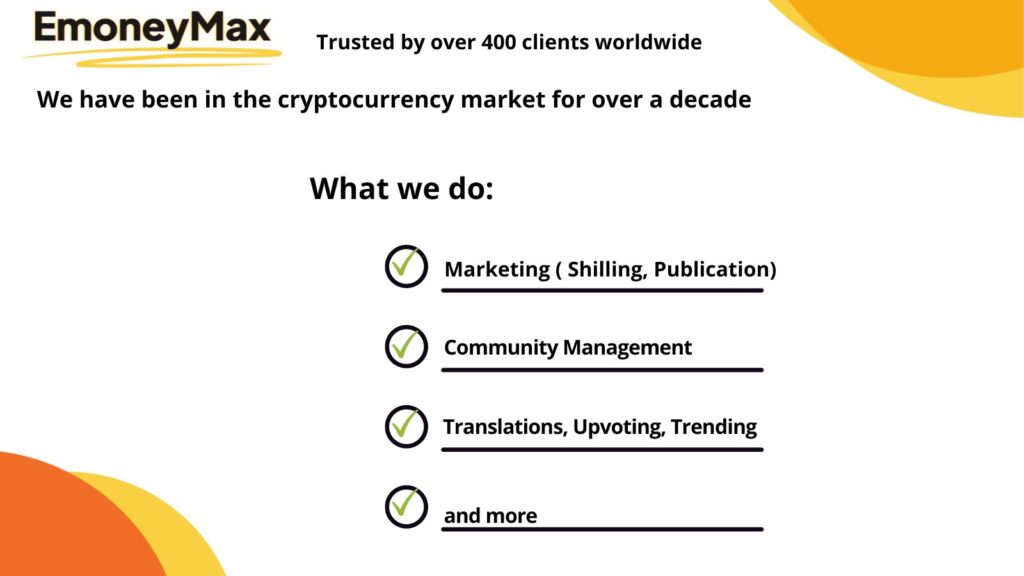 Why us
Choosing the right advertising agency for your crypto project is crucial, as it can greatly affect the success of your marketing efforts. An educated and experienced agent from Emoneymax.net crypto marketing service can help you navigate in the complex and ever-changing world of cryptocurrency marketing and ensure your project receives the recognition it deserves.
With help of Emoneymax.net marketing services companies can also benefit from compliance and obtain certifications such as ISO or SOC2 to demonstrate their commitment to security and compliance.
Ultimately, recognition in the crypto space requires consistent effort and dedication to the industry.
By taking steps to build their reputation and credibility, individuals and companies can establish themselves as trusted players in the crypto community.
Over the last few days, $BTC is up and is now trading at $28K, making it a great time to jump in and start advertising. EmoneyMax crypto marketing service can help you with that. We provide real-time news, bringing you the latest insights and trends in the cryptocurrency market. By keeping up with the latest industry developments, you can position your project to take advantage of new opportunities and trends.
Emoneymax service help you grow your community and attract the right investors. Through targeted marketing and community-building strategies, we can help you build a loyal customer base and attract the attention of potential investors.
EmoneyMax offer services to increase your presence on social networks, including Twitter, Telegram, and Discord. Increasing your following and engagement on these platforms can increase your visibility and draw even more attention to your project. Solutions designed to build excitement around your project and increase your visibility in the crypto space. By leveraging Emoneymax network of cryptocurrency influencers and enthusiasts, we can help your project become a valuable addition to the industry.
Check out EmoneyMax now!