EmoneyMax Advertising Service – we know how to promote your project and reach your goals. Today you will see how and where we are advertise, how we Shill, Moderate, Design, Publish articles, Translate and do so much more. Let's dive deeper into guerilla marketing and how it's done.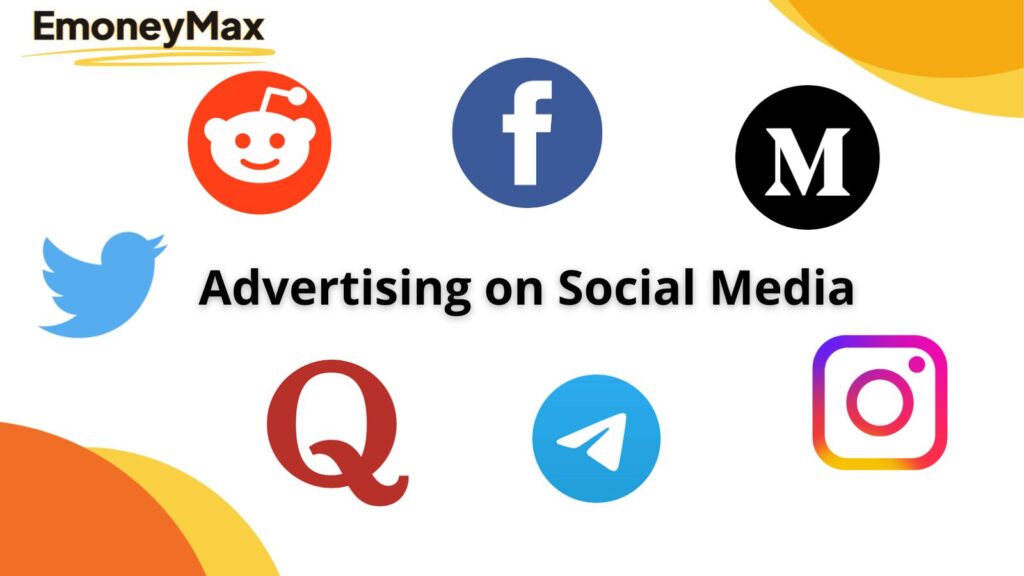 5 simple steps to advertise on social media:
1. Create Ads for Specific Platforms: When it comes to advertising on social media, you need to craft your message to fit the platform you're using. For example, if you're advertising on Facebook, create an ad that will resonate with the audience on the platform.
2. Utilize Targeted Ads: With social media advertising, you can target your ads to reach a specific audience. You can choose who will see your ads based on demographics like age, gender, location, interests, and more. Precisely targeted audience is the key!
3. Include Visuals: Visuals are a key component of any successful social media ad. They draw attention to your ad, making it more likely to be seen and engaged with. We have the best and cheapest designers on bard, quality for reasonable price – this is how we operate.
4. Focus on Quality Content: Quality content is essential for any successful social media ad. Make sure the content you create is engaging and valuable to your target audience. We have experienced writers on board, professionals that usually work for Bitcoinmagazine.
5. Monitor and Analyze Your Ads: Once you've created and launched your social media ads, you need to monitor and analyze them to see what works and what doesn't. Use the insights you gain to optimize your ads and get the best results, we will tweak it in real time.
We know all social media
We work with crypto projects from almost 10 years!
We can run Social Media campaigns/ads for you and manage them. EmoneyMax Advertising Service is known for comprehensive projects management. Our team is experienced and prepared to focus fully on clients needs.

Let's do this we know we can help you to advertise on:
Twitter.
Facebook.
Instagram.
Medium.
Discord.
Quora.
Reddit.
Youtube and many other websites or forums.
If you have any specific needs contact us, our offer is flexible, and we can adjust it to your needs.
EmoneyMax is also known as the best advertising service and our main product is shilling. When it comes to cryptocurrency market, we are proud to say that we have the highest quality standards. We know where and how to promote your project, we mastered it on platforms such as Telegram, Reddit, Quora and Discord.

Beside that we have list updated frequently lists with most wanted Telegram discussion groups, ANN channels, Twitter influencers, Reddit boards and Discord servers, we know where to write. All lists are categorized to specific crypto niches: DEFI, NFT, GameFi, MEMECOIN, Platy to Earn, Metaverse, BTC…

What we can do when it comes to social media? How we do it?
Write under influencers matching specific niche of your business.
Talk about project in gropus related to you.
Social media boosting. We can add hundreds of likes, followers, retweets and HQ comments to your Twitter account.
And it will:
Build your recognition in the cryptocurrency environment.
Increase Community Members.
Get you real Investors.
Increase your Twitter followers.
Increase your telegram and discord members.
Increase the retweets/reach of your tweets.
Because our team is big and experienced, we can do literally anything for you when it comes to marketing, content creation, PR. In our team we have native speakers from all over the world. We have outstanding graphic designers, writers and translators.
Is advertising on social media is easy?
No, advertising on social media is not easy. It requires careful planning and strategy to ensure success. There are a lot of factors to consider when creating an effective social media advertising campaign. Think about: audience targeting, budgeting, and creative content just for start.
When you will research marketing services please consider our long time being in crypto advertising business. We can say with no hesitation that for EmoneyMax advertising in social media its something that we know from A to Z and can help with everything.
Contact us via form on our website or DM us on Telegram: MaxMeriss or Emoneyabc – we are online 24/7. Looking forward to talk with you.
Take care, EmoneyMax.net team.