In the ever-growing world of cryptocurrencies, building trust and making your product stand out through recognition is necessary to increase acceptance among users and investors. EmoneyMax crypto marketing service, knows how to do it and In this article, we will share our view on this topic.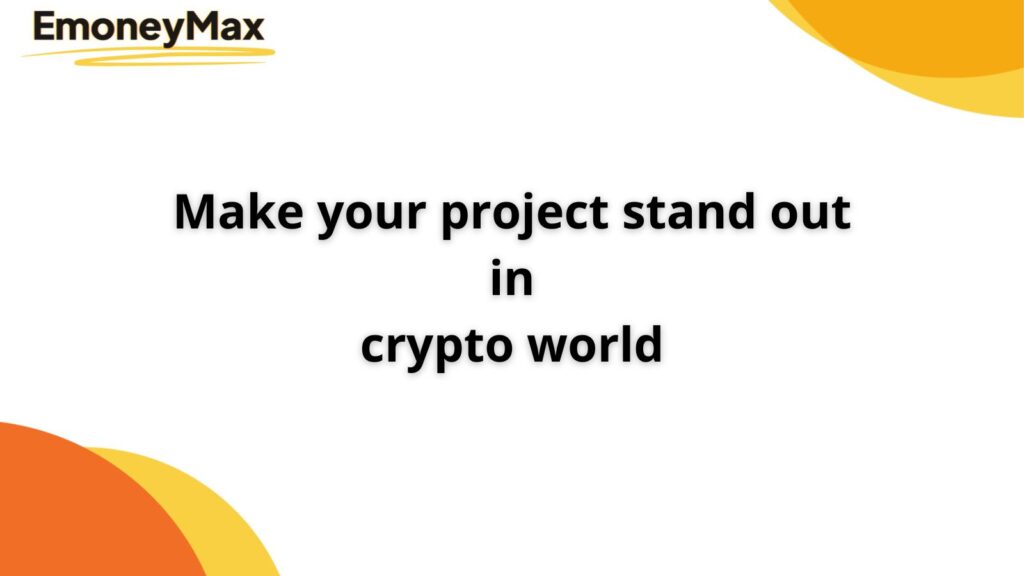 Recognition is the key to establish trust in the decentralized world of cryptocurrencies. Investors and users are more likely to trust a cryptocurrency listed on trusted exchanges recognized by regulators.
This recognition increases the legitimacy of the cryptocurrency and sets it apart from less established and less trusted competitors.
Recognition also leads to greater acceptance. The more people learn about cryptocurrencies and their possible uses, the more likely they are to use them as a medium of exchange.
This increases the cryptocurrency's demand and liquidity, making it more attractive to investors who want to buy and sell quickly and easily.
The impact of recognition can also be felt in the price of the cryptocurrency. When a cryptocurrency gains recognition, investors see it as valuable, leading to increased demand and a higher price.
This was proven in 2017, when Bitcoin's recognition caused a price increase of over 1000%.
Recognition also encourages innovation. As a cryptocurrency gains recognition, it attracts talented developers and entrepreneurs looking to develop its infrastructure. This could lead to the creation of new applications and use cases for the cryptocurrency, further increasing its adoption and value.
Advertising agencies and services like Emoneymax.net, play a key role in the recognition of cryptocurrencies, products and projects in crypto markets.
Emoneymax.net crypto marketing service help promote cryptocurrency to a wider audience, builds brand awareness and trust. Through targeted marketing campaigns and strategies, EmoneyMax can increase the visibility of cryptocurrencies, leading to greater adoption and liquidity. We can also help position the cryptocurrency as a legitimate investment opportunity using our shill teams and drive demand,
which ultimately affects the price.
The right advertising agency, such as EmoneyMax, can be a valuable partner in gaining recognition and success in this competitive and ever-evolving world of cryptocurrency. You can see how we work here.
Bitcoin, Ethereum, Binance Coin, and Dogecoin, to name a few, led to the hype. Ppopularity and success of many altcoins are largely attributed to the strategic use of advertising and marketing services like EmoneyMax.net.
Emoneymax.net strategies to get recognition:
-Social Media Marketing and boosting:
Harness the power of social media platforms to build brand awareness and drive engagement with Emoneymax.net crypto marketing services. Engage your audience by creating and sharing engaging content that highlights unique features and benefits of your cryptocurrency. Emoneymax,net will help to increase the visibility by boosting social media accounts and content with followers, likes, shares, upvotes, views, watchtime, to increase the reach of potential investors and supporters.
-Influencer Marketing:
Emoneymax work closely with influencers to promote your project. This can help build credibility and trust with your target audience. Emoneymax.net crypto advertising service work with many most wanted influencers in crypto niche, we can help to get them talk about your project.
–Search Engine Optimization (SEO):
Optimize your website and online content to improve search engine rankings and increase visibility. This can be done through keyword research, content creation, and link building.
Check out how we do it, here.
-Paid Advertising:
Use paid advertising channels and services, such as Google Ads, social media advertising, or display advertising, to reach your target audience. This can increase traffic to your website and increase brand awareness.
-Public Relations:
Build relationships with journalists and media outlets to ensure media coverage and mentions of your cryptocurrency. This can help build credibility and increase brand awareness. We work with many PR services check out our offer, here.
-Community Engagement:
Build a strong community around your cryptocurrency by interacting with users and providing excellent customer support. This can help build loyalty and create positive word of mouth.
–Events and Sponsorships:
Attend and sponsor relevant industry events to showcase your cryptocurrency and network with other players in the space. This can help increase brand awareness and establish your cryptocurrency as a legitimate player in the industry.
Choosing the right advertising agency for your crypto project is crucial, it can greatly affect the success of your marketing efforts. An educated and experienced service like Emoneymax.net can help you navigate the complex and ever-changing world of cryptocurrency marketing and ensure your project receives the recognition it deserves.
Don't wait, here our social media links and contact details: