Discover how Emoneymax crypto marketing services can help your business grow and succeed in the competitive market. Learn more about our strategies today!
Get the Most Out of Your Crypto Marketing Budget with Emoneymax

​As a business owner, you're always looking for ways to get the most out of your budget. When it comes to marketing, you want to make sure you're reaching the right people and getting the most bang for your buck. So how can you make sure you're getting the most out of your crypto marketing budget?
The answer is simple: work with a service that specializes in crypto marketing. At Emoneymax, we understand the ins and outs of the crypto world and we know how to reach the people who are most likely to be interested in your products or services.
When you work with us, we'll help you create a targeted marketing campaign that reaches the right people. We'll also track your results so you can see exactly how effective our campaign is. Plus, we'll work with you to adjust your campaign as needed to ensure you're always getting the most out of your budget.
Developing a Long-Term Crypto Marketing Plan
When it comes to marketing your crypto project, there is no one-size-fits-all solution. Every project
is different and will require a different marketing strategy. However, there are some common elements that should be included in any long-term crypto marketing plan.
First and foremost, you need to have a clear understanding of:
What your project is trying to achieve.
What problem does it solve?
Who is your target audience?
What are your project's unique selling points?
Once you have a good understanding of your project, you can start to develop a marketing strategy that will help you achieve your goals.

One of the most important aspects of any marketing plan is setting realistic goals, such us:
What do you hope to achieve with your marketing efforts?
Do you want to increase brand awareness, drive traffic to your website, or generate more leads?
Once you have set your goals, you can start to develop a plan of action. You can also, fill our form and answer above questions Emoneymax will prepare plan for you.
Where to advertise
There are a number of different channels that you can use to market your crypto project. Which channels will work best for you will depend on your goals and target audience. Some popular marketing channels for crypto projects include social media, online forums, and online publications.
When it comes to social media, it's important to choose the right platform. Twitter and Telegram are popular choices for crypto projects, but there are a number of others to choose from. It's important to select the platform that will reach the largest number of people in your target audience.
For online forums, Reddit is a great option. There are a number of different subreddits that are relevant to the crypto space. By posting regular updates and engaging with the community, you can increase brand awareness and drive traffic to your website.
Finally, online publications can be a great way to reach a wider audience. There are a number of different crypto-related publications that accept guest articles. By writing articles that are relevant to your project, you can increase your visibility and reach a larger audience.
Developing a long-term crypto marketing plan requires careful planning and execution. However, by following the tips above, you can develop a plan that will help you achieve your goals. And if you need it, EmoneyMax can make a plan for you.
What Crypto Marketing Services Does Emoneymax Offer?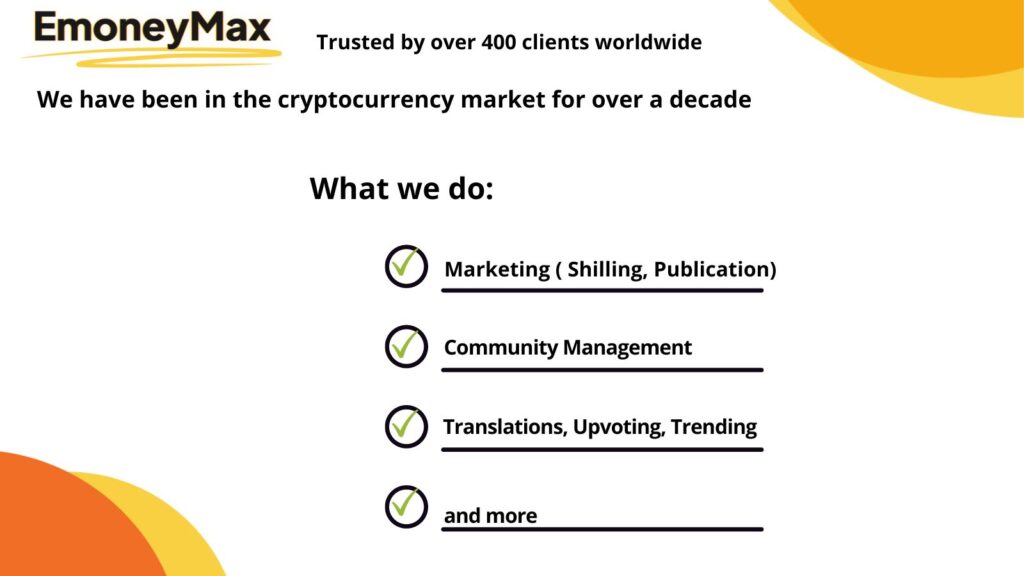 ​Emoneymax is an all-in-one digital marketing firm that offers a wide range of services to help businesses grow their online presence and reach their target audience. One of the primary services we offer is social media advertising. We can help you create powerful ads that target your ideal customers and get them to take action.
We also offer shilling services to help you promote your ICO or blockchain project. We have a team of experienced online marketers who know how to get the word out about your project and build up a community of supporters.
If you're looking to take your crypto business to the next level, then contact us today to see how we can help you.
Telegram